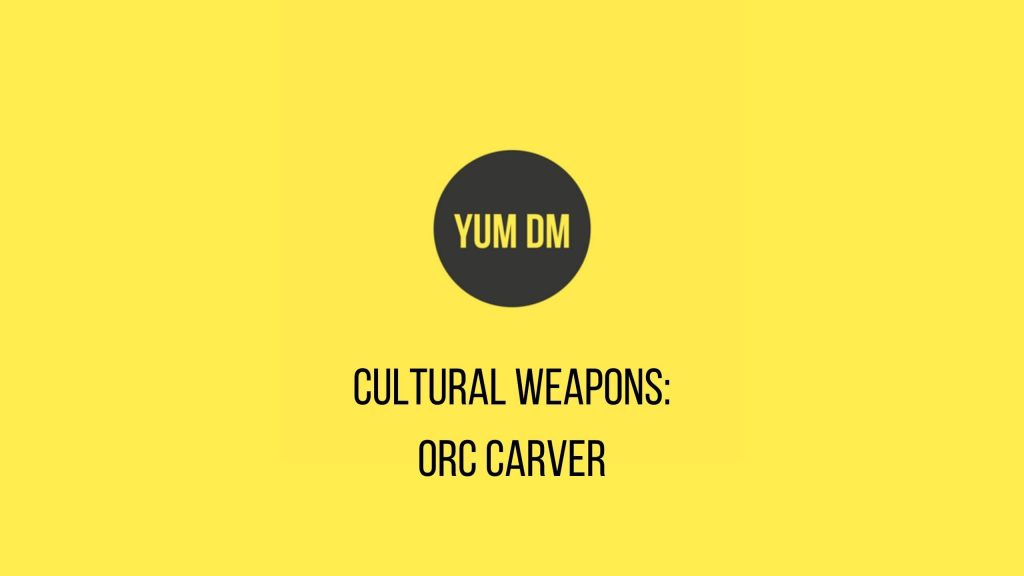 This is part of a series on cultural weapons I am writing. 
The Orc Carver is a sword typically used by orcs all over the Known World and especially in the Dragonspine mountain region.
Original made by the Eklish Empire, this weapon was co-opted by the orcs after they smashed that empire.

It is a curved, one-handed cleaving weapon with the blade on the inside of the curve.
It is built to deliver debilitating blows, even when the blow itself fails to kill the target.
Orcs use this as either a primary weapon or as a sidearm when wielding a spear or other polearm.
Orc Carver
Skill: Medium martial weapon
Damage: D6+1
Critical: 19-20/x3*
Type: Slashing
Special: Armour Cleave, Injure
* Crits on a roll of 19 or 20 and does x3 damage. If playing in a game without critical rules, simply ignore.
Armour Cleave
If a Nat 20 is roll for the attack, any armour bonus against the target is reduced by 2 instead of the normal 1. See Issue 3 of d12 Monthly for more information on armour damage.
Injure
If an attack from the orc carver causes the recipient to make an injury roll, then the target makes that roll with a -2 penalty (making the injury worse). See Issue 2 of d12 Monthly for more information on injuries.