About d12 Monthly
d12 Monthly started in mid-2021 as a small project of just 8 pages that I wasn't sure would work at all. It came about after I tried and failed to produce a YouTube channel as I just couldn't find the time to dedicate to producing regular videos.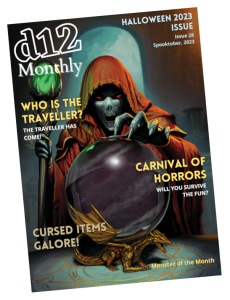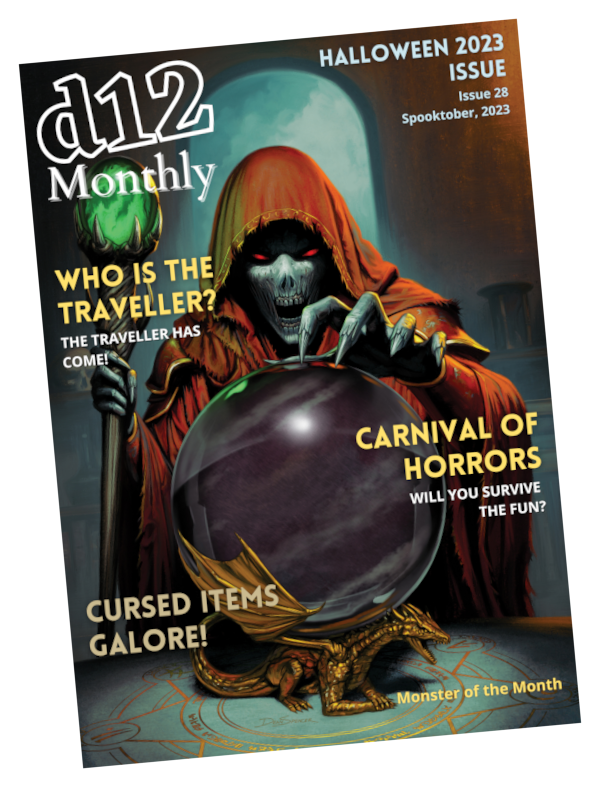 d12 Monthly has grown into a 28-page monthly zine which features articles to help GMs and players of Dungeons & Dragons (and other fantasy TTRPGs) with new ideas, rules, and inspiration.
The zine is available free in PDF form my website, plus in a physical format, which I can send anywhere in the world.
There are two versions of the zine published – a FREE version, which consists of 20-pages, and a FULL version, which has a minimum of 28 pages (usually 4-5 additional articles) and is available to purchase in my webstore, as a PDF via DriveThruRPG, or by becoming a Patron.
About Me
I have been roleplaying for 30+ years and still remember my very first game – playing Tasslehoff in a Dragonlance module – like it was yesterday.
I have played many genres of table-top roleplaying games, but my true love is fantasy. I always come back to it as it truly feels like home.
I have been creating my own campaign world, Aythia, since 2019 and love watching it grow and develop in each new campaign I run.
I am also an avid solo roleplayer and have solo roleplayed as far back as 1986 (more memories that seem like only yesterday).
In addition to writing and publishing d12 Monthly, I also blog about the world's longest running fantasy game over on my blog.
I am very active over on X / Twitter, but you can also find me over on Mastodon, Instagram, and Reddit.
Podcasts
I also love talking about TTRPGs and my zine and you can hear me talk about these topics and more on these podcasts:
Homebrew Shomebrew – I talk about D&D, 3rd edition, and Westmarches.
RPG Ramblings – I talk about how I produce a zine each and every month.
Redcaps Podcast – Where I talk about the OSR and Dungeons & Dragons, in general.
Voice Acting
I also lend my voice to two OSR & D&D-style play podcasts.
In season 1 of Tale of the Manticore, I voice the Big Bad, Sov Merrimon.
In season 1 of Legend of the Bones, I play another evil Big Bad, but the episode is yet to air.
Blog Posts
These amazing blogs, feature blog posts about my zine:
Tabletop Engineer mentions d12 Monthly and (the now defunct) d12 Sites.
RPG Geek lists details my zines on their platform.
Frugal GM also mentioned my zine in a post.
Death-Trap Games has reviewed quite a few of my zines over the years:
Issue 1, Issue 2, Issue 3, Issue 4, Issue 5, Issue 6, and Issue 7.