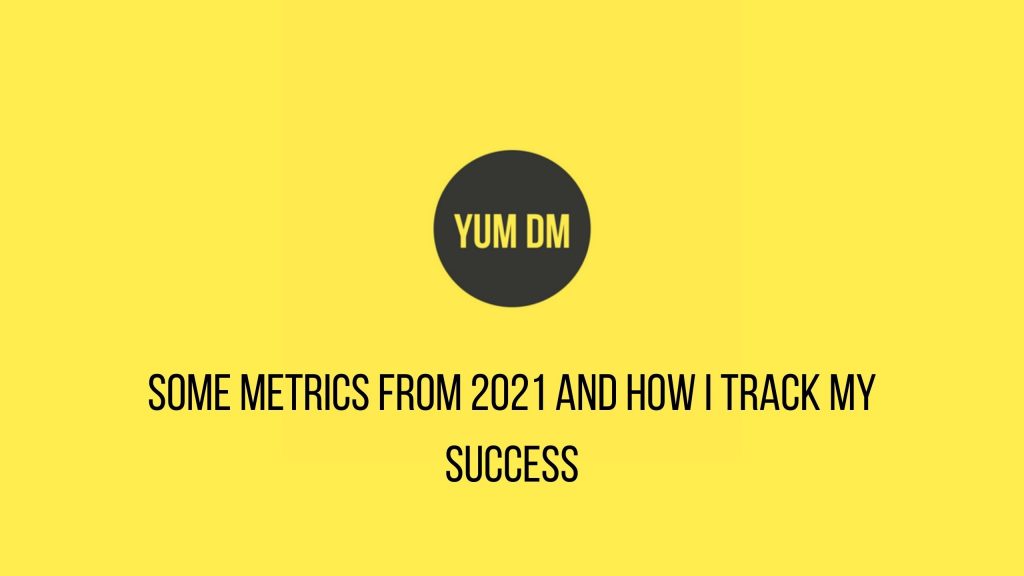 Tracking my success is important to me.
2021 was a good year for YUMDM, even though the world around me (and many others) seemed to be closing in.
For starters, I launched my D&D zine, launched a Patreon, and also have some goals going into 2022.
But, to know how far you have come you need to be able to track your success (and failures).
One way to do this is to track some important metrics.
I've had a look at some metrics via Mailchimp and Google Analytics and wanted to share some with you so you may be able to learn where to focus your attention.
I don't follow "vanity metrics" much – that is, Twitter and Facebook likes and even number of followers to be honest.
I look at several different numbers depending on the platform (as every platform is different).
Tracking Your Success on Twitter
For Twitter I look at two main numbers:
Profile Visits (for non-link posts)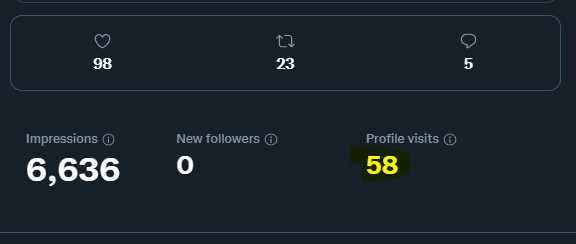 This measures the amount of interest people who see the post have in you.
Link Clicks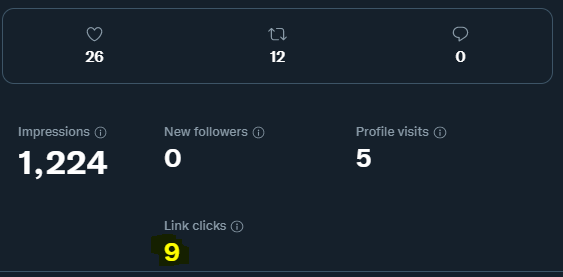 These measure how many clicks to your website (or wherever) from that tweet.
These two are the only metrics I really care about on Twitter.
I do care about Impressions to a certain extent, but only in relation to these other two metrics as there is a correlation – the more impressions, the more link clicks and profile visits.
How to Achieve Good Metrics on Twitter
Having said all that, you need to be active on Twitter and post regularly with posts that get engagement so you can get your posts seen and clicked as the algorithm will reward your important posts the next time you post.
I have also found that if you are active on Twitter after posting, commenting and liking tweets, your post will do better (although this is just an assumption).
Tracking Your Success on Instagram
The only metric I care about on Instagram are how many comments I get. And maybe number of followers.
Likes are cheap and easy on Instagram, comments take effort (which is why I track them).
How to Achieve Good Metrics On Instagram
To be honest, I haven't cracked this one yet as I just started on it recently. I am posting copies of what I post on Twitter, which isn't the best, but it saves time.
Just like any other platform, the more time you spend on it – interacting and posting – the better your results will be.
My issue is I dislike the platform so I tend not to use it as much.
Tracking Your Success on Email
I care about the number of subscribers I have, but also the open and click rates.

Open Rate
The open rate is important as it indicates who is getting the email and reading it.
Click Rate
I also pay attention to click rates, but that will depend on what's in your email. I have links to my zine and also (in the mid-month update) to other websites, so this metric is important.
Looking at the number of links clicks helps me understand what people are interested in. I can then use that information in the future.
How to Achieve Good Metrics On Email
Simple answer to this one: provide good content.
This means understanding who your audience is and what they want – something that is not so simple.
I provide a solid piece of content: my zine each month, so I do see continuous growth with my email list. But I am also wanting to offer them more.
I am planning on doing this by making my email subscribers into a club of sorts – a not-so-exclusive-club – but one that offers a lot of value if someone signs up.
Google Analytics
GA is my go to for metrics.
It's free, easy to use (for a marketer like myself), and is pretty accurate.
And really helpful.
I have recently changed my default channels to a more accurate measure: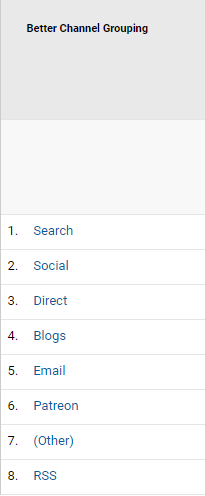 This allows me to see where all my traffic comes from.
As you can see from the above image, most of my traffic comes from search and social.
This isn't surprising to me as I spend a lot of time on SEO and my social platforms (mostly Twitter).
I can also see where I need to spend more time: blogs (referrals) and email.
Campaigns
The other thing I have done is start using tags to allow GA to track my email (and other) campaigns.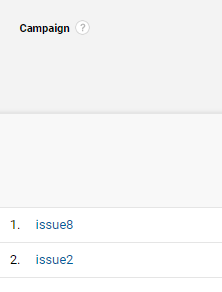 The 'issue' refers to the issues of my zine that have been clicked on via email.
There is not much there now, but in the future, I will be able to track all my email links and links from other websites.
Comparing
The other thing I can do on GA is easily compare various dates.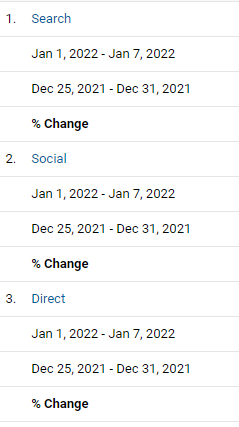 So, I can compare weeks, months, even years – any dates you care to select.
This is important as it means I can see how I am doing from week-to-week,  month-to-month, and year-to-year.
As an example, I managed to a 1500% growth year-on-year for my social traffic to my site in 2021, as well as 270 subscribers within a few months.
Goals for 2022
From here I can select some goals, which are for 2022:
1,000 email subscribers
Traffic growth in both referrals (from other websites) and email of 100% or better
Patron growth over on Patreon from 28 patrons to 100
If I can achieve these goals by the end of 2022 I will be happy.
Over to You
What are you goals for 2022? Leave a comment below. 
While You're Here…
Since 2021 I have been publishing d12 Monthly, a monthly zine, which has a ton of articles for any edition of Dungeons and Dragons.
Printed copies are available in my store. The PDF is available on DriveThruRPG and you can get both, plus support my work, via my Patreon.
I will also be releasing some more products in the near future.
Feel free to reach out to me on Twitter any time.