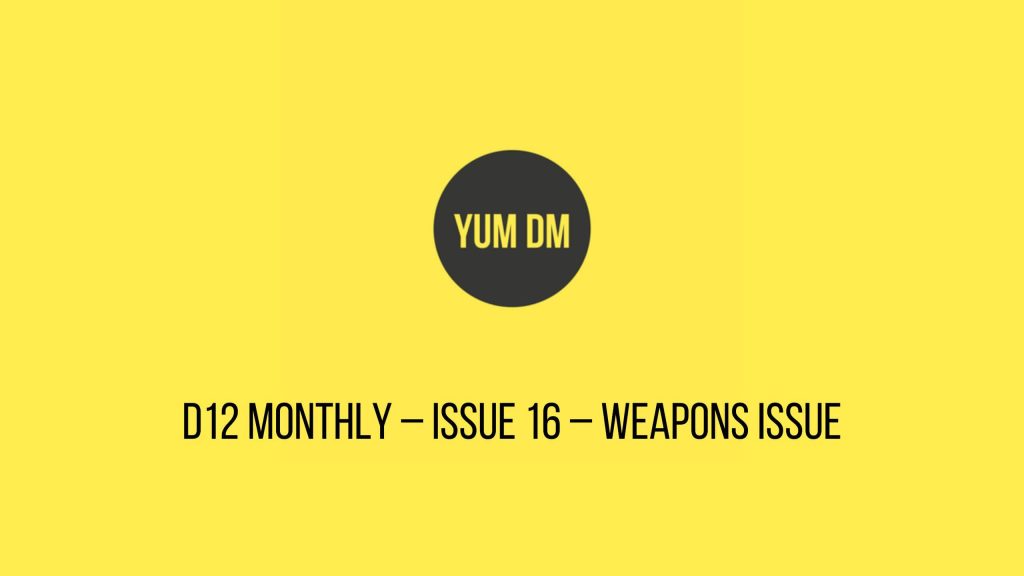 Issue 16 of my Dungeons and Dragons zine is out!
Issue 16 is all about weapons. It will feature articles on making weapons from creatures and undead, shield bashing rules, weapon tags to make your weapons different, blessed weapons, and much more! (See below for details).
You can get issue 16 here: d12 Monthly – Issue 16 (Weapons Issue) PDF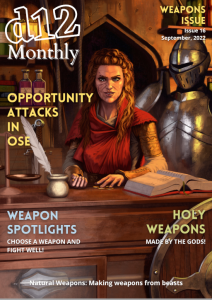 Want a printed edition? Join my Patreon and receive a printed edition each and every month. Plus, help to support what I do here.

Past Issues
Past Issue are also available.
Contributions
Want to feature in the zine in an upcoming issue? Feel free to contact me via Twitter and let me know what you want to contribute.
Issue 16 Contents
Issue 16 is jam-packed with a lot of content and contains the following feature articles:
Gaw! – Making natural weapons from monsters with some interesting non-magical abilities.
From Beyond the Grave – Weapons made from the parts of undead.
Shield Bashing! – Simple rules for using your shield as a weapon.
Have at Ya! – Easy and effective rules for improvised weapons.
Not so Fast – Opportunity attacks in OSE.
Blessed, They Be – Blessed weapons – and how they differ from magical weapons.
And much more! 
Art
Artists include: Dean Spencer, Gary Smith, Alec Adams, Zed nope, Blake Davis, and Daniel F. Walthall. 
Printed Copy
If you want a printed copy, you can do this yourself or join 30+ others over on my patreon and I will send you a printed copy.
Adobe has a guide to print it so it becomes a booklet. Or simply follow the below settings when printing from Adobe PDF Reader.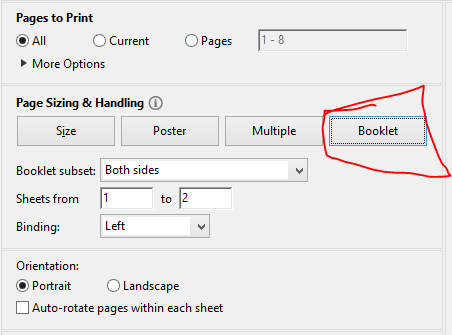 Over to You
Feel free to leave any feedback on this issue in the comments below! 🙂
While You're Here…
Since 2021 I have been publishing d12 Monthly, a monthly zine, which has a ton of articles for any edition of Dungeons and Dragons.
Printed copies are available in my store. The PDF is available on DriveThruRPG and you can get both, plus support my work, via my Patreon.
I will also be releasing some more products in the near future.
Feel free to reach out to me on Twitter any time.