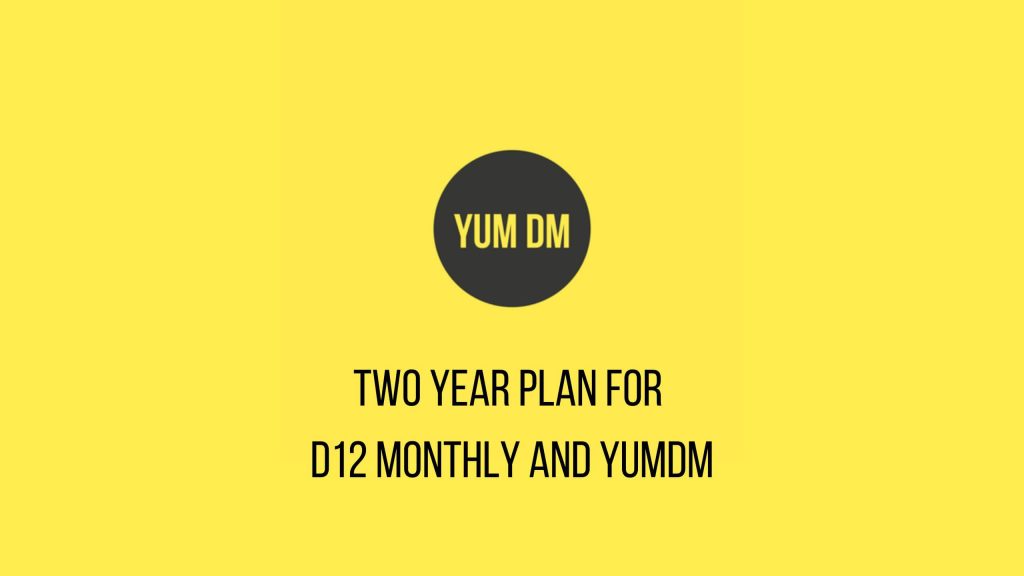 The next two years will be, hopefully, growth years for YUDM, my zines, and the industry as a whole.
I wanted to let you know what I have planned as a way of keeping you informed, but to also hold myself to account.
NOTE: While these plans are written down and mapped out, they may (and probably will) change in some aspects – especially given we live in uncertain times.
Plans for Next Two Years
1. A New Product
I will be creating a one-page NPC profile each month to all those who subscribe to my email newsletter. I have hundreds of subscribers already who get my two emails each month (the frequency of emails won't change), but I want to grow that number.
And offering something useful to subscribers each month is a great way to do that.
The NPC profile will be a one A4 (letter)-sized page with an image, personality, and background for an NPC you can drop into your game. All for free, just for being a subscriber.
This should be starting in November 2022.
2. An Alignment of Products
Currently I have two main products – d12 Monthly, my free monthly D&D zine; and d12 Sites, a current exclusive zine for patrons over on Patreon.
Add to this the NPC Profile from 1. above, and this will make three monthly products. I want all three of these to align.
And by align, I mean each one will have a common thread running through them.
For example, if d12 Monthly's theme for a month is say Swamps, then d12 Sites will feature a location within a swamp, and the NPC Profile will be someone who is in, or connected to, that location.
This way, those fans who are also patrons and subscribers will be able to get all three publications for just $2! (But also see 3. below)
3. Selling d12 Sites Issues
I will making all d12 Sites zine available to buy on DriveThruRPG. Previously it was an exclusive to only patrons.
I have made this decision for two reasons:
I have had a lot of people ask if they can get the zine outside of being a patron; and
I started these zines with the ideal of everyone having access to quality publications for free or a very small price
By having them available for purchase on DriveThruRPG, patrons will still enjoy getting bonus content for free, but others will also be able to get all the publications I produce for a small fee.
4. d12 Monthly Themes
As you are probably already aware, d12 Monthly has a certain theme each month. I have mapped out most of the up-coming themes over the next 12 months or so.
This may change, depending on what my release schedule is like, but I can tell you that starting in November 2022 and for the next 6-8 months afterwards each month's issue will focus on terrains. Starting with swamps, the zine will cover all of the various terrains, including plains, mountains, hills, deserts, jungles, forests, and more.
5. Future Publications
I also have some other future publications planned, most of which people have been asking me for. These will be launching as Kickstarters.
The first of these will be a series of omnibus titles of d12 Monthly. There will be a few volumes, but I am yet to decide on how they will be compiled just yet (I have a few ideas though).
These will be available as PDFs or in print, and will start being available in early 2023.
The other Kickstarters I have planned will be a series of Monster Manuals which focus on each of the monster types (undead, aberrations, giants, etc), and will give GMs some great information on not only the monsters, but on how to place them in their campaign world. There will also be brand new monsters.
They will be available as PDFs or in print, and should be available in late 2023.
Everything Else
There are a couple of other ideas I have, but the above will be my focus for the next couple of years – all things being equal to how they are now.
I hope you will join me on this journey and get as much fun out of using these publications as I have creating them.
Over to you… let me know in the comments below what you think about all this. 
While You're Here…
Since 2021 I have been publishing d12 Monthly, a monthly zine, which has a ton of articles for any edition of Dungeons and Dragons.
Printed copies are available in my store. The PDF is available on DriveThruRPG and you can get both, plus support my work, via my Patreon.
I will also be releasing some more products in the near future.
Feel free to reach out to me on Twitter any time.