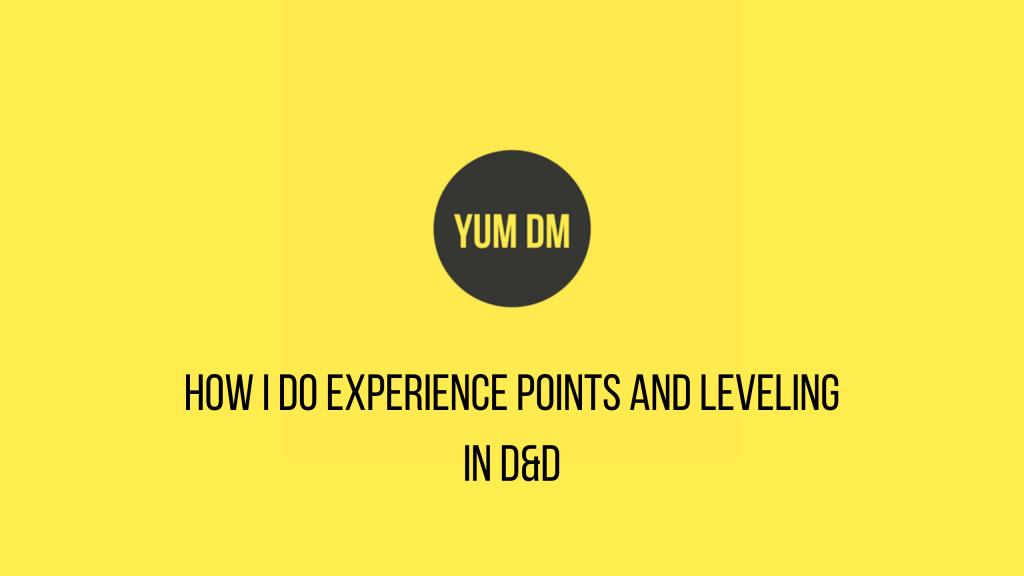 How I give out experience points and how PCs level up in my Dungeons & Dragons campaigns. 
I have combined XP and levelling as they tend to go hand-in-hand.
First off, I am not a huge fan of experience points (XP) as they are written – in any edition of the game – for two main reasons:
The calculations involved are onerous

They reward certain behaviour
The Issue with Traditional XP
No matter how you give out experience or what for, you end up encouraging a particular behaviour. 
Give out XP for gold and you make the character crave after coins and treasure

Give it out for roleplaying and they will just sit around and do that all game

Give it out for killing monsters, and, well, you get the idea
Whatever you tell the players about how to earn XP, their characters will invariably lean towards doing that.
And this may favour one class, or style of player, over others. 
The way I see it, this is frought with danger. 
One caveat I will place here is that if you are definitely after a particular style of play, then matching XP rewards to that style can reinforce what you want, but this can be a slippery slope and it may not suit every player.
The other alternative usually given as a point of difference is milestone levelling.
I dislike milestone levelling even more than original experience awards. 
The Issue with Milestones Levelling
Most milestone levelling happens during a set point in an adventure (a lot of the time the adventures calls for this), and all characters level at a certain point in the story or adventure. 
The reason is I dislike it is that it breeds railroading during the adventure.
Railroading being defined as the GM wanting and forcing the PCs down a particular path due to that being what the PC "are supposed to do" according to the adventure or that is what the GM envisioned happening.
(Note, railroading and pre-written adventures being two different things).
And I am not a huge fan of either railroading or pre-written adventures for this reason.
The Solution
The solution is simple. 
You award 1 XP each time the PC plays in that session. 
That's it. 
No calculations. No angst. No favouring. 
Just one XP for each session a player shows up and their character contributes. 
This means that players are there for the game and the story and the adventures, and not just so they don't miss out on gaining experience. 
It also means no bean counting at the end of each session. I always hated that as GM. Which means more game time.
Actually, I stand corrected, it does encourage one thing: players showing up! 
Levelling
Now that we have our XP sorted out, it is time to decide how and when we level. 
I want to say this at the start: stop skipping over the low levels so quickly! 
This is an important time when players are getting to know their characters and overwhelming them – especially new players – with even more spells, bonuses, and abilities does nothing to enhance their enjoyment of the game. 
My Proposal for Levelling
I propose a slow(er) levelling. 
At every level. 
When I first implemented this XP system, I told the players that their characters would level up when they played as many sessions as they needed for the next level. 
So, two sessions to go from 1st to 2nd level. Another three, to go from 2nd to 3rd level, and so on. 
But even this is a little too fast for me. 
Now, I level each character up after 10 sessions. 
What!? I hear you ask. 
You have to play 10 sessions before you get to 2nd level? 
Yup!
And another 10 before you get to 3rd. 
Why Level so Slowly? 
Because this allows the players to get to know their characters, have the characters understand their abilities and powers, and spells (so important for spellcasters).
And I mean a deep understanding of them.
This means knowing which spells and traits to use as second nature. Players who know their character's abilities well, speed the game up.
A natural flow-on effect.
It also allows time for the GM to develop arcs for the characters and give them what they need to level. 
Again, super important for spellcasters. 
Leveling this slowly (is it really that slow?) also means your campaigns will probably last a lot longer, instead of ending after 20 sessions when everyone is 10th level and over the power-trip that is levelling (especially in later editions of the game). 
Professor DM mentions about his long-running campaign many times in his videos, but this one in particular mentions how slow levelling is a better way to go and gives his reasons.
His players are happy with slow levelling because it will be longer before the campaign ends and they need to retire their characters!
This slower levelling also means a GM can explain how the character gets their powers and abilities. 
For spellcasters, this means the GM can have a chance for mages and clerics to find scrolls from which they can then learn new spells. 
For fighters, this means realistically having time to train for new abilities and proficiencies. 
For rogues, it means getting better at their craft by actually using those traits and skills. 
And so on.
This is especially true of multiclassed characters. 
To learn the basics of a new class – even "dipping" into it – is onerous, and it should take some time. Especially, if the fighter is moving into wizard! 
This allows the GM time – up to 10 sessions – to plan how the character can do what they want to do. 
Which decreases the pressure on the GM.
And leads to happy players. 
Campaign Length and Levelling
I believe this would also allow campaigns to continue on longer than they do now for the reasons outlined above as players will need to earn each and every level and so will be more invested in their characters. 
D&D is, after all, about the journey and not the destination. 
At least, shouldn't it be? 
If you didn't want to strive to get to higher levels, you could just start out at 10th level. It's pretty easy these days to make up a 10th level character so why bother with the first 10 levels? 
Most do because they want to earn those levels. 
This gives players a way to earn them and enjoy the ride as well. 
Over to You
What do you think? Too fast? Too slow? 
How do you calculate experience? 
While You're Here…
Since 2021 I have been publishing a monthly zine, which has a ton of articles for any edition of Dungeons & Dragons.
They are also available on DriveThruRPG and printed copies are available via my Patreon.
I also have a growing Discord, where you can join in on my regular West Marches campaign.
I will also be releasing some more products in the near future, like several monster manuals and a series of soloRPG publications.
Feel free to reach out to me on Twitter any time.
While You're Here…
Since 2021 I have been publishing d12 Monthly, a monthly zine, which has a ton of articles for any edition of Dungeons and Dragons.
Printed copies are available in my store. The PDF is available on DriveThruRPG and you can get both, plus support my work, via my Patreon.
I will also be releasing some more products in the near future.
Feel free to reach out to me on Twitter any time.