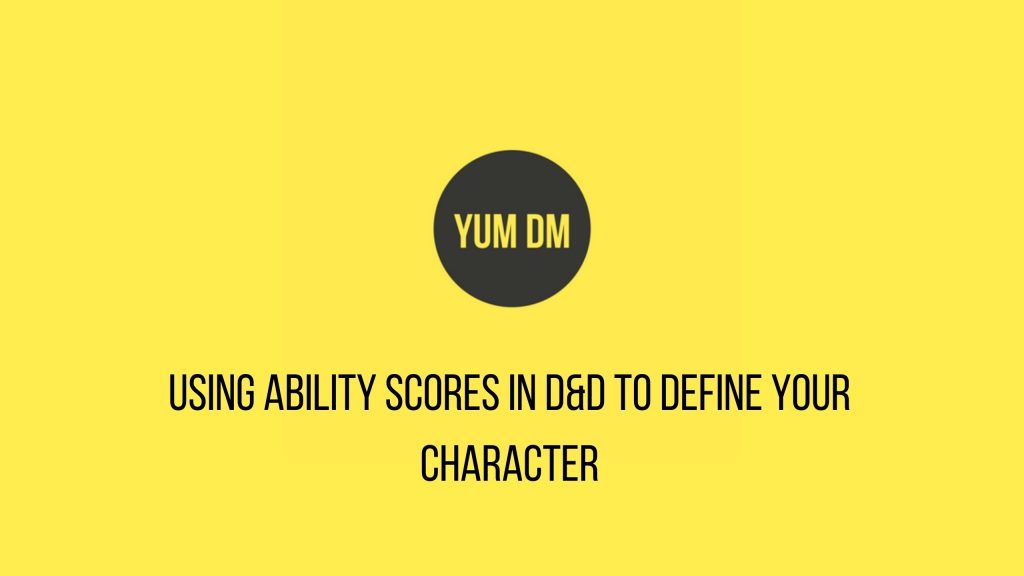 Abilities scores define your character.
Of all the various editions of Dungeons and Dragons, nothing is as standardized (well, except using a D20) as the six abilities.
No matter how you generate them (or in which order you list them), Strength, Dexterity, Constitution, Intelligence, Wisdom, and Charisma are synonymous with the game.
A while ago, I reviewed a Five Torches Deep supplement, and in that book, the creator suggested abilities were not fixed numbers but abstract notions of your experience with the wider world.
This article brings ability scores back down to earth and is about how to use those six ability scores to come up with a good understanding of your character.
Over on Twitter there was a post by Juce:

And some of the responses got me thinking how much the six abilities can help define a character.
A great example of this came from Pickpocket Press: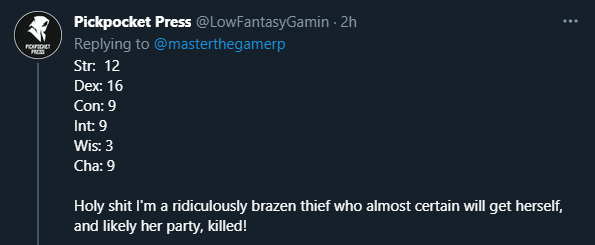 By just looking at the scores he rolled for his character, he figured out she was:
Ridiculously brazen
A Thief
How did he get this?
A high Dex made her a good thief, while a very low Wisdom score made this thief extemely prone to making bad decisions, not understanding (or caring) about the consequences.
Now, that is a character!
An Easy Task
And doing this is not that difficult.
Let's look at another example, with ability scores I just rolled up:
Str: 10
Dex: 10
Con: 5
Int: 13
Wis: 8
Cha: 10
From these ability scores I can imediately see that my Constitution is low. Very low.
Without even knowing what class this character will be, I can already make some assumptions about him: he is not healthy.
His Wisdom is also slighty lower than average, while his Intelligence is slightly higher than normal.
I could do a few things with this character:
1. He could be overweight and unhealthy. He is smart enough to know this, but lacks the will power to do anything about it – instead, living in the moment and indulging himself at every opportunity with his one passion: food.
2. He could be old and frail, having spent most of his time at a desk copying tomes for his employer. He has gleaned some information from his years of reading and copying books and scrolls of all kinds (hence is above average intelligence), but until he took up a life of adventure (or had it thrust upon him), he never really did anything with it.
3. He nearly died at childbirth from a lung, or similar, disease. While he survived, he never fully recovered and still lives with its legacy. He took to reading as much as he could, but learned little about other people and the outside world.
These are three very different characters – all drawn from the same ability scores.
This is the power of creating what you character is like just from six numbers.
Gives You Flexibility
And this is the flexibility you have when you don't power game and have all your abilities at high levels. Having even one that is poor, or even terrible, allows you to flesh out your character in a much more interesting way.
Someone who you look forward to roleplaying.
I would even go far as say, rolling 3D6 straight down the line (in order of ability scores) allows you to have a character that is way more interesting than one that is created via point-buy or a more generous generation method.
It also gives you an opportunity to roll the dice and let them decide what character you are going to play, while at the same time stretching your imagination in coming up with what your character is like.
But that's not what this article is about as you can still roll badly or give your character a "dump stat" with more generous methods.
The idea is to use those ability scores to not only determine your class (and possibly race), but to also use them to flesh out your character more.
Over to You
Now it's your turn – what ability scores did you roll and what did you create from them? Let me know in the comments below.
While You're Here…
Since 2021 I have been publishing a monthly zine, which has a ton of articles for any edition of Dungeons & Dragons.
They are also available on DriveThruRPG and printed copies are available via my Patreon.
I also have a growing Discord, where you can join in on my regular West Marches campaign.
I will also be releasing some more products in the near future, like several monster manuals and a series of soloRPG publications.
Feel free to reach out to me on Twitter any time.