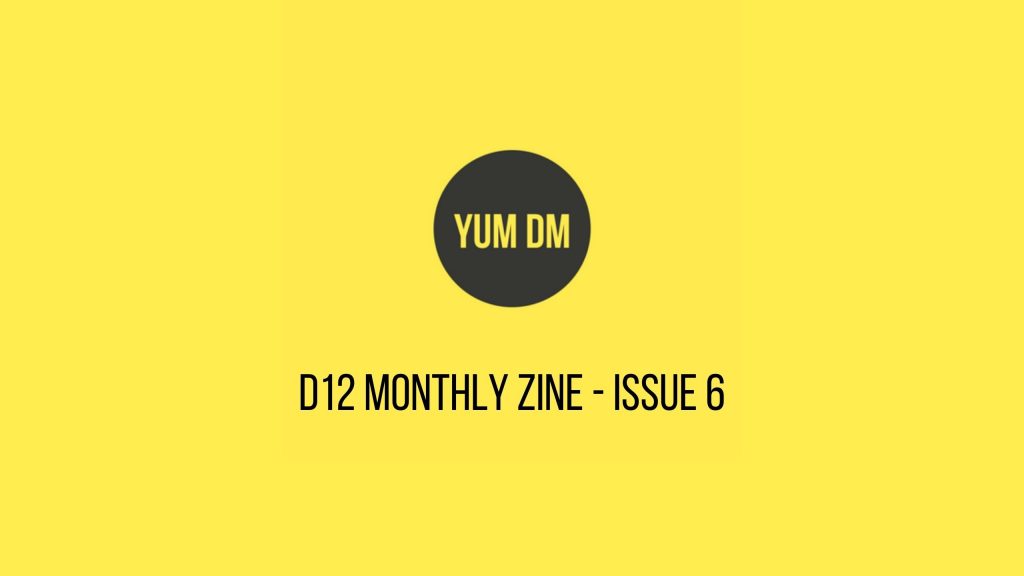 The latest issue of my Dungeons and Dragons zine is out!
Issue 6 is all about undead and will feature articles on new vampires, enhancing your undead, a trip to the spirit world, details on a new demi-plane, creating new undead, teaching your undead new tricks, as well as new tomes about death and a weapon spotlight on the scythe, and much more!
You can get a PDF copy of issue 6 here: d12 Monthly – Issue 6 (Divine Magic) PDF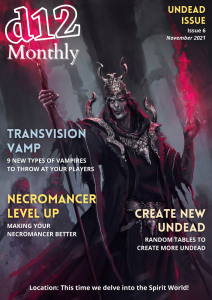 Buy a physical copy in the store:
Previous issues are also available in PDF or as physical copies.
Patreon
If you want to help support this project (and help keep them free), I have a Patreon which I launched that will help me develop these zines into something truly great.

Issue Themes
Each issue has a particular theme that most of the article will be about. Issue 6's theme is Undead.
Contributions
Want to feature in the zine in an upcoming issue? Feel free to contact me via Twitter and let me know what you want to contribute.
Issue 6 Contents
Issue 6 is jam-packed with a lot of content (24 pages worth!) and contains the following feature articles:
Transvision Vamp – New types of vampires.
Enhance Your Undead – Mundane herbs to augment your undead.
Weapon Spotlight – This time we take a look at the scythe.
Library Ratings – Researching in your campaign world's best libraries.
Phylacteries – Four places to hide your soul!
The Spirit World – A new look at where spirits go after death.
Necromancer Level Up – Making your necromancer better.
Location, Location, Location – This time we can a trip to the spirit world and The Umbra – a new demi-plane with some interesting inhabitants.
Undead Familiars – Your best friend just got better!
And much more! 
Printed Copy
If you want a printed copy, you will need to do this yourself.
Adobe has a guide to print it so it becomes a booklet. Or simply follow the below settings when printing from Adobe PDF Reader.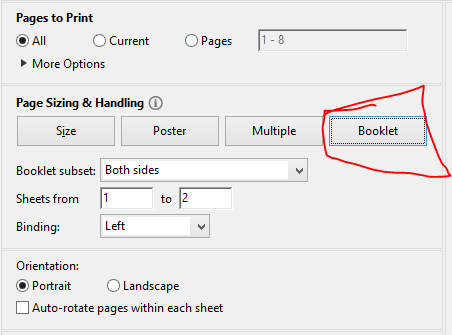 Over to You
Feel free to leave any feedback on this issue in the comments below! 🙂