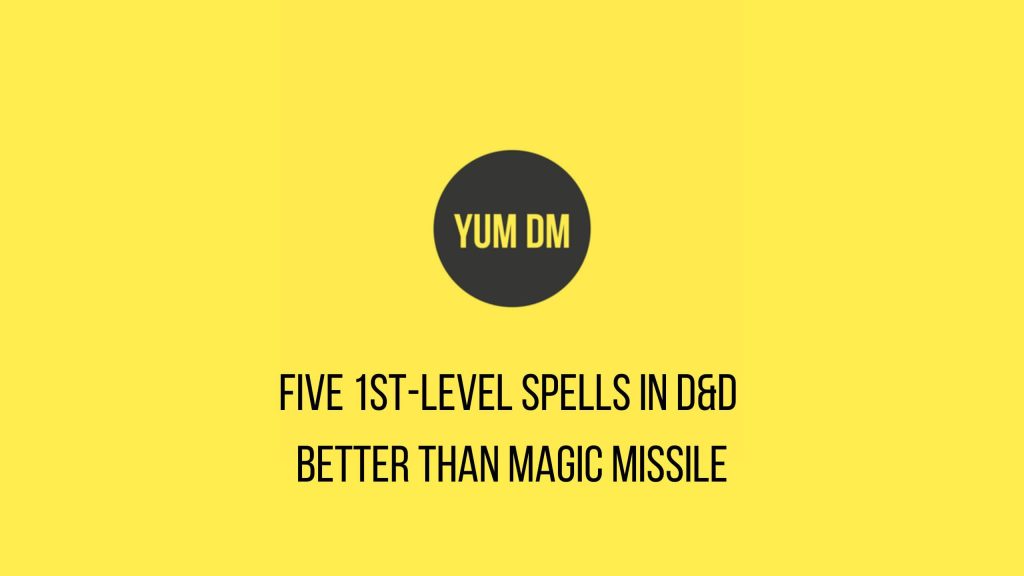 In Dungeons & Dragons, wizards always seem to go for the flashy, damage-inducing spells.
But there are other spells that are way more effective (in various situation), and I feel, are way better than those flashy spells.
I want to try and expand your thinking when it comes to choosing your wizard's spells. Or, to help you make do with the ones you randomly rolled.
I have broken this up into three editions of the game – OSE (Basic), D&D3e, and D&D5e – listing five from each edition.
I had one basic rule with this list: I only took into account spells from the respective Player's Handbook.
OSE (Basic D&D)
My five 1st-level spells better than Magic Missile in OSE:
Sleep – this is one powerful spell. It affects 2D8 HD of creatures under 4HD. For those low level pesky runts, there is no better spell. Also, once they are asleep: Creatures enchanted by this spell are helpless and can be killed instantly with a bladed weapon. Nice!
Charm Person – Man, this spell is poorly underrated. Anyone under 4HD can be charmed if they fail a saving throw and they will consider you a friend and ally. And this lasts anywhere from one day to one month! (depending on their Intelligence). You could charm an average NPC for a week! And at the end of the week, they only get another save. If they keep failing, they will still be charmed.
Light – A great utility spell that can be a combat spell. We all understand what a great spell this can be when the lanterns and torches go out. But it can also be cast into the eyes of an enemy up to 120-ft away, blinding them and making them unable to attack.
Read Languages – For 20 minutes the caster can read any language, code, map, or set of written instructions. While this is one of the least flashiest spells around, it would be extremely useful in those ancient tombs and crypts, when dead languages abound.
Floating Disc – This spell was originally designed with carrying treasure in mind, but with a max load of 500lbs, it could easily carry dead bodies back to the surface or injured companions. It would also be a good way to get past traps as well.
Dungeons & Dragons 3rd Edition
My five 1st-level spells better than Magic Missile in D&D3e:
Alarm – This spell create a silent or audible alarm if anyone comes within a certain range. The spell lasts 2 hours per level of caster, so by 4th level you could have a spell that would alert you to visitors for up to 8-hours (the required time for sleep). Something that would be super beneficial when resting in dangerous places.
Grease – I cannot tell you how many times this spell has saved me. A 10-ft x 10-ft area is covered in slippery substance that means anyone who crosses that area must save or fall prone. Combine this with a reach weapon and you have a bonus to your attack and a free attack if they try and stand up. It also means that even if they save they move at half speed. This spell can also be cast on an item as well, giving it all sorts of interesting possibilities with enemy's weapons or magic items.
Unseen Servant – For one hour per level you get an invisible servant to do your bidding. It has a STR of 2 but can open stuck door, trigger traps, and clean – all very handy in a dusty old dungeon. This is one of those spells the wizard can get really creative with.
True Strike – This continues to be an underrated spell. You cast it one round and your attack on the next round gains a +20 insight bonus and ignores concealment. This is pretty much an auto hit every other round. Gold for wizard who has run out of spells or a wizard who has a few ranged touch attack spells.
Magic Weapon – At low levels it could be some time before anyone in the party has a magic weapon. Even at mid-levels, not everyone does.  And as soon as you encounter a monster which can only be hit by magical weapons, you really feel it. This spell is one of those that is not always used, but when it's needed, it is a god-send.
So many good spells in 3rd edition, this was a difficult list to just limit to five. Let me know if I missed any good ones.
Dungeons & Dragons 5th Edition
Just for completeness, my five 1st-level spells better than Magic Missile in D&D5e:
Colour Spray – Another offensive spell but quite an effective one. It will blind up to 6D10 hit points worth of creatures. This means they will get disadvantage on all attacks and can be attacked with advantage. Any time you gain advantage or give disadvantage is great, but this does both to multiple enemies!
Expeditious Retreat – This gives you bonus Dash action each and every round. Definitely worth it if needing to be somewhere else on the battlefield quickly, get into range for a spell (and get out again), or running away from the enemy.
Disguise Self – This is completely underrated. You can change your appearance, including items worn, into someone else completely. This could come in handy in many situations and you could easily use this spell to infiltrate an enemy camp, or to evade them.
Unseen Servant – It made my 3rd edition and 5th edition list. It's just that good. I have used it in 5e quiet effectively. I was driving a bad guy mad with it, mended a door with it, and also you can place it between you and an enemy and it will give you a round delay as the bad guys pumps into an invisible "enemy", attack it instead of you. And you can cast it as a ritual if you are not in a hurry.
Protection from Evil or Good – Unlike its name suggests, this spell will protect you from multiple monster types: aberrations, celestials, elementals, fey, fiends, and undead! And they will all get disadvantage on attacks against you. In addition, you cannot be charmed, frightened, or possessed by them – no need to make those saving throws.
There you have it, five better 1st-level spells beyond Magic Missile for three editions of D&D.
Do you agree? Any I missed? Let me know in the comments below.
While Your Here…
Since 2021 I have been publishing a monthly zine, which has a ton of articles for any edition of Dungeons & Dragons.
They are also available on DriveThruRPG and printed copies are available via my Patreon.
I also have a growing Discord, where you can join in on my regular West Marches campaign.
I will also be releasing some more products in the near future, like several monster manuals and a series of soloRPG publications.
Feel free to reach out to me on Twitter or Mastodon any time.
While You're Here…
Since 2021 I have been publishing d12 Monthly, a monthly zine, which has a ton of articles for any edition of Dungeons and Dragons.
Printed copies are available in my store. The PDF is available on DriveThruRPG and you can get both, plus support my work, via my Patreon.
I will also be releasing some more products in the near future.
Feel free to reach out to me on Twitter any time.