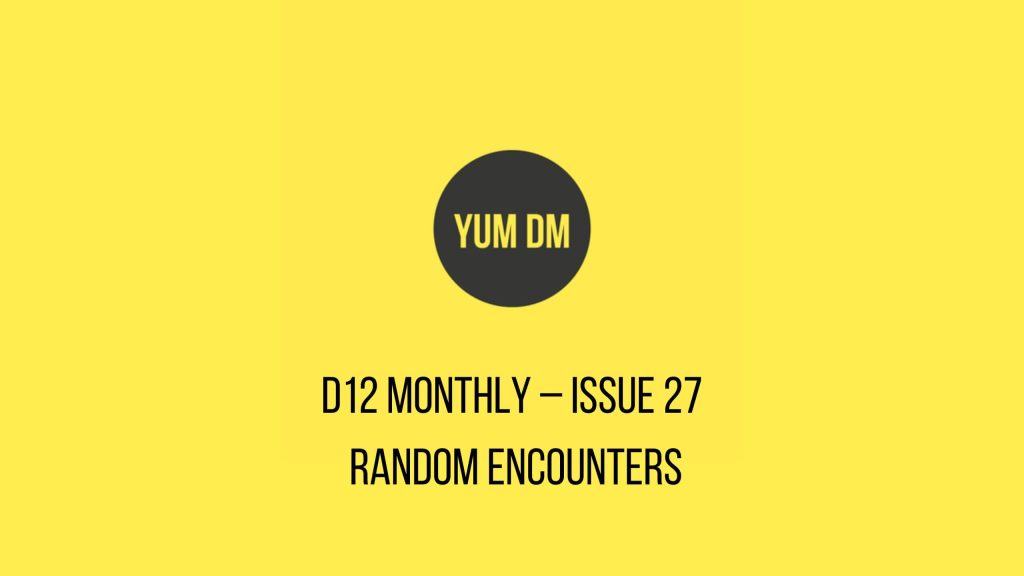 Issue 27 of my Dungeons and Dragons zine is out!
Issue 27 is all about the Random Encounters. It will feature articles on various ways to create and use random encounter tables, the odds of using various die types, an interview with Jon from Tale of the Manticore, and much more! (See below for details).
Download: d12 Monthly – Issue 27 (Random Encounters Issue) PDF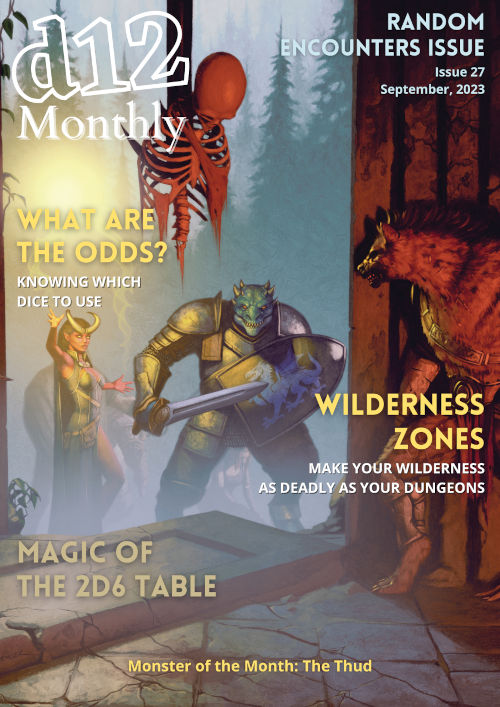 Want a printed edition? Join my Patreon and receive a printed edition each and every month. Plus, help to support what I do here.

Past Issues
Past Issue are also available.
Contributions
Want to feature in the zine in an upcoming issue? Feel free to contact me via Twitter and let me know what you want to contribute.
Issue 27 Contents
Issue 27 is jam-packed with a lot of content and contains the following feature articles:
Roll 'Em – An article giving you options around checking for random encounters.
All Dice Under The Sun – A look at all the various ways you can roll to see what is encountered. Lots of different tables to use!
Random Monster Encounters – A closer look at the exploding die method of generating multiple encounter tables.
Wilderness Zone – Showcases a way you can make your wilderness just as deadly as your dungeons by using zones.
2D6 Tables – A deep dive into using 2D6 for encounter tables.
An Interview – with Jon from Tale of the Manticore podcast.
New Monster – You monster of the month is the Thud: an ever-ravenous, hairy, potato-shaped underground-dwelling humanoids who act only to fill their bellies.
I Search the Body – Treasure tables from the creature's perspective.
And much more! 
Art
Artists include: Cover art by Dean Spencer. Interior art by MacTeg, Dean Spenser, and by AlexTheMapMaker. 
Printed Copy
If you want a printed copy, you can do this yourself or join 30+ others over on my patreon and I will send you a printed copy.
Adobe has a guide to print it so it becomes a booklet. Or simply follow the below settings when printing from Adobe PDF Reader.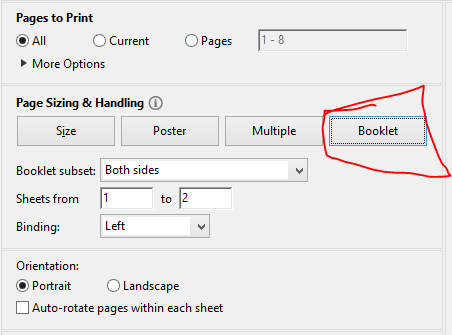 Over to You
Feel free to leave any feedback on this issue in the comments below! 🙂